Separate your body and mind and sharpen your senses in this virtual reality experience. In a suit fitted with sensors, you experience what it's like to be a different animal or plant. A voyage of exploration through touch, smell and even taste.
How does it feel to be a slime mould? Or a toad, or a plant? The virtual reality experience Symbiosis by the Polymorf collective is a unique experience for all the senses. In a specially designed suit fitted with sensors and inflatable elements, you step away from the limitations and capabilities of your own body and the human perspective. This technological thought experiment is, among other things, inspired by the work of the biologist and philosopher Donna Haraway, who envisions a future in which humans occupy a less dominant position. It explores how we can exist in a future world in harmony with other organisms and with technologies. To complete the multisensory experience, the virtual world that participants are presented with is supplemented by scent, soft robotics and vegan snacks tailored to each organism.
Symbiosis was part of Storyspace 2022, an exhibition in the Neude Library.

Credits
Interface & Interaction Design
Production company
Polymorf
Studio Biarritz

NFF Archive
You are now in the NFF Archive. The archive contains contains information on film, TV and interactive productions that were screened at past festival editions. The NFF does not dispose of this material. For this, please contact the producer, distributor or broadcaster. Sometimes, older films can also be found at the Eye Film Museum or the Netherlands Institute for Sound and Vision.
Bekijk trailer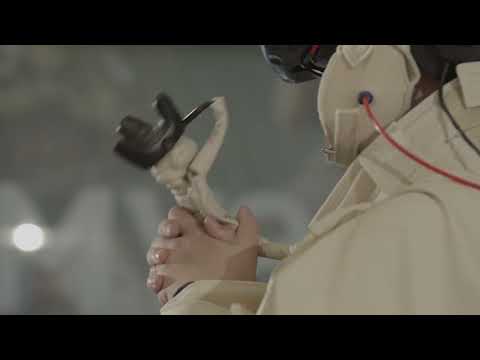 Permission is required to play this video. Adjust your cookie settings to watch this video. Watch it on Youtube
Stills